What Does Friday's Sell-Off Tell Us About the Economy?
posted on: September 09, 2007
The catalyst as we
all know for Friday's market drop was the weak August employment report
featuring a slide in non-farm payrolls of 4,000. If that
wasn't bad enough there were downward revisions totaling a combined
81,000 in June and July payrolls. Manufacturing lost another 46,000
jobs lost month, and construction lost 22,000.
In the household survey, the government estimated that 592,000
people left the labor force (job leavers), and showed an "employment"
drop of 316,000. There seems to be a great disparity in non-farm
payroll versus household survey. I would not be surprised to see this
September set of numbers revised lower in the months ahead.
The Friday sell-off was unusual in that the usual bounce back failed
to materialize after 10 a.m., as the 1-minute chart (below) of the Dow
shows: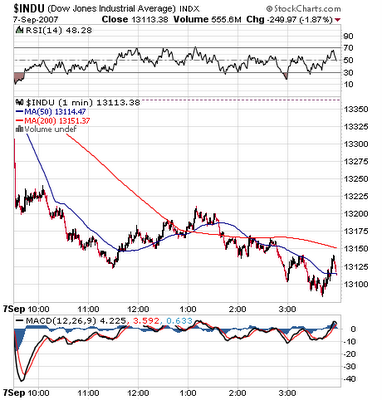 Employment growth has long been heralded by the bulls as a reason
why there was little chance of recession. Factors are coming together
for a test of the March Dow lows at around 12,000, perhaps as early as
this month.
While odds have increased for a half-point cut in the federal funds
rate September 18 (25 bps has long been baked into the cake), there was
disappointment in some circles that the Fed did not immediately ease by
the 25 bps Friday morning.
There is no doubt that a rate cut is coming, but Bernanke seems
content to sit on his hands, and wait until the 18th with the usual
caveat that if things really fall apart Bernanke will show up with his
"tool box" beforehand. The Bernanke Fed wants to show, imho, it's not
Alan Greenspan, who probably would have cut by at least 75 bps by now.
Bernanke is also likely to be worried about this...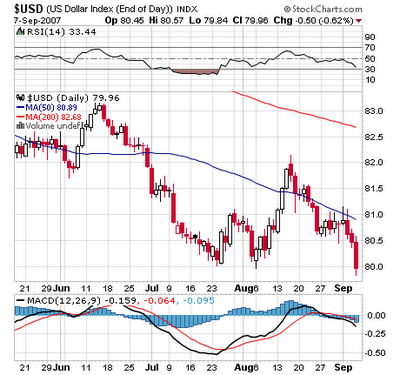 Yes, the dollar - once again, back at the 80 critial point of
reference, and no doubt doomed to a steady chisling. But, as events
unfold, and the "de-leveraging" process continues, you can bet that
Bernanke will be no better than Greenspan, and will likely go from
garden hose (repos and the like), to the fire hose in order to try to
meet liquidity demands, and attempt to stop the recession from
deepening, once we're officially in the midst of one.